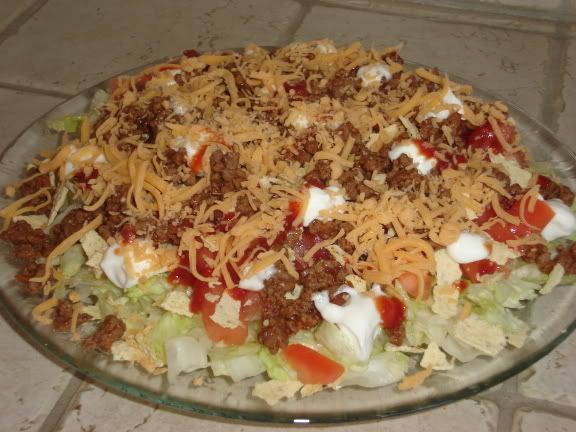 Makes 8-10 Servings
1-2 lbs ground beef
1 big can refried beans
taco seasoning
torn or shredded lettuce
diced onion
diced tomato
shredded cheese
sour cream
taco sauce
Doritos, crushed
Directions:
Brown ground beef and drain. Add taco seasoning and water according to directions for however many pounds you made. Heat until thickened; stir in refried beans, stir well. Heat until it bubbles and then remove from heat. Layer lettuce, tomato, onion, cheese, meat mixture, sour cream, taco sauce, and Dorito pieces on plates or in bowls. EAT!
~~~~~~~~~~~~~~~~~~~~~~~~~~~~~~~~~~~~~~~~~~~~~~~~~~~~~~~~~~~~~~~~~~
This is a "recipe" that has been in my family for years. We eat it regularly, in addition to the fact that we ALWAYS have it on Christmas Eve! It is super, SUPER easy, and it takes less than 30 minutes to prepare, especially if you have the Chop Wizard like we do! We got ours @ either Linens n Things or Sears, but you can pretty much find it anywhere.
~~~~~~~~~~~~~~~~~~~~~~~~~~~~~~~~~~~~~~~~~~~~~~~~~~~~~~~~~~~~~~~~~~